I run workshops and writing residencies in secondary schools across Ireland. For 3 years I've been the Writer in Residence for 'We Write What We Like,' a project funded by the City of Dublin Education and Training Board and the Junior Certificate School Programme. I love helping students discover and develop their writing voice; there's huge talent out there.
I'm also a writer-facilitator on the WorldWise Global Schools-Poetry Ireland programme exploring development issues such as poverty, climate change and racism through creative writing.
Creative writing for wellbeing: age 12-18 (1st-6th year), 1.5 hours
These workshops use prompts, exercises and discussion to build creative confidence and help students find their writing voice, whether they are bookworms or reluctant readers and writers. I love to see less confident learners develop with encouragement and guidance. Even for students who will never choose to be writers, the exercises build creative thinking, problem-solving ability, self-awareness and resilience.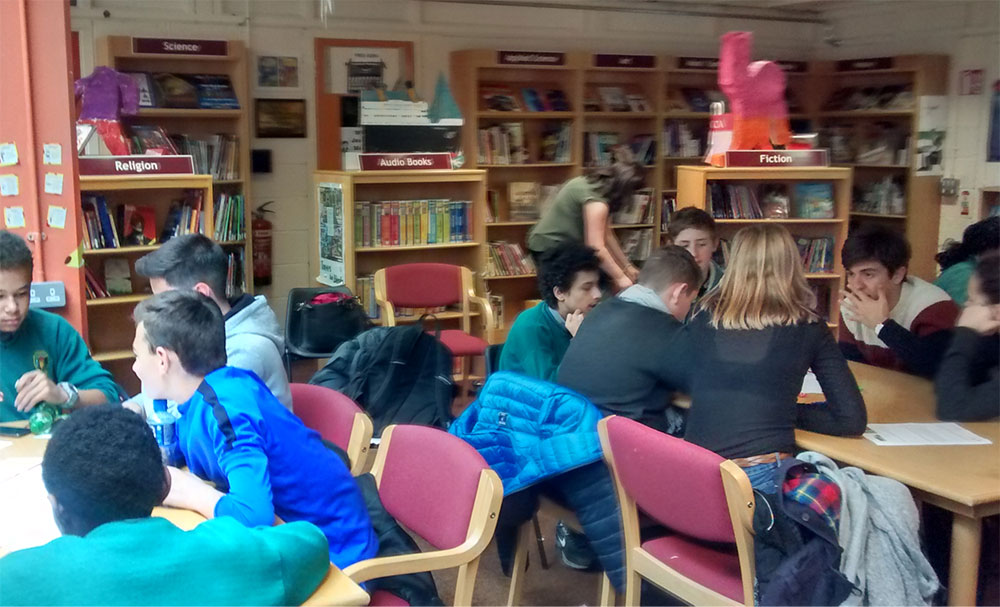 'Debbie has worked with our creative writing group in Marino College for two years running. Her commitment and passion for enabling young writers with confidence shines through. She is warm and engaging and really listens to the students with whom she mentors. Her workshops for young adults are fantastic as she focuses on the process of writing, rather than the product.'
– Laura Walsh, JCP librarian Marino College
'Creative writing initiatives can often be "one and done" affairs, but with the right guidance, young authors will come back year after year to scratch that itch. Thanks to Debbie, we have a core of enthusiastic students from all years at Clogher Road who not only enjoy her visits, but are inspired to work on their own writing as well.'
– Neil Kettles, JCSP Librarian, St Kevin's College, Dublin
Development education for global awareness and social justice: age 12-18 (1st-6th year), 1.5 hours.
I worked as a BBC reporter in the UK and as a journalist in Bangladesh and South Africa. I'm now a director of Nepal Leprosy Trust (www.nlt,ie ). Using experiences and case studies, these workshops explore global issues such as climate change, refugees, poverty, prejudice etc. for the WorldWise Global Schools programme (https://www.worldwiseschools.ie/). They are very interactive, encouraging students' own opinions; offering new perspectives; developing empathy, and building responsible citizenship.
'Debbie's method of getting students to dig deep into their minds for answers worked very well … it made me very aware of what was going on around the world. The atmosphere was great walking into the workshops and they were all great fun.'
– 5th year students, Ard Scoil Chiaráin Naofa, County Offaly.
'The workshops were one of the most stimulating and worthwhile educational exercises I have been involved with in a long time. The students were wonderfully engaged and interested in the issues which Debbie brought up. Her approach was innovative and challenging and the students responded in ways which often took me by surprise. She used a variety of techniques throughout the workshops which made them fresh and exciting. She always allowed for differences of opinion to be expressed and the students came up with some wonderful written pieces as a result of her encouragement.'
– Seamus Diamond, teacher, Coláiste Chill Mhantain, Co. Wicklow
'I really enjoyed the workshops with Debbie. I found them all very interesting and I loved the approach. She helped me to improve my creative writing skills which I find very difficult.'
'The most impressive aspect of Debbie's teaching is her demeanour with students. Debbie was able to present information on a wide variety of topics while projecting a composed presence, great sense of humour and maintaining an extremely positive classroom environment-something as an English teacher I was in awe of.'
– Lisa McNerney, teacher, Ard Scoil Chiaráin Naofa, Co. Offaly.
'I found Debbie's writing workshops brilliant. They really enhanced my writing skills and made me feel more creative.'